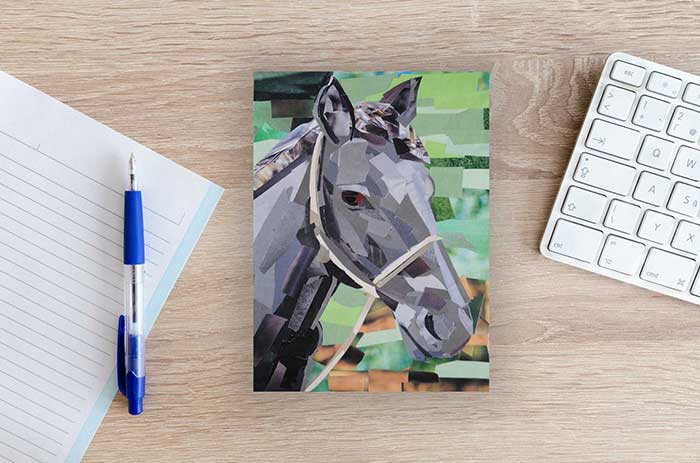 If you want to start exhibiting or selling your artwork, it's important that you build out a portfolio so people can sample the work you've done, or see the work you're capable of doing. Review the artwork you've made thus far, and select the strongest pieces. How do they compare when they're grouped together? See if you can meet these requirements to ensure that you have a good portfolio:
Is there enough variation?
Do they show that you have range?
Are they consistent?
Is each piece memorable in its own way?
Do you have at least 10 pieces?
If you weren't able to meet all the requirements, or if there were any pieces you weren't thrilled with, you can make more art so you can fill in any of the gaps. Your portfolio should be a body of work that you're proud of, so you should replace anything that you're not crazy about with newer, better art.
If you're compiling a portfolio to apply for an exhibit:
Make sure the artwork speaks to the gallery – meaning do the research on what they've exhibited previously, and if your art looks like something they'd show there.
Make sure it fits the requirements.
Organize the art in such a way that it flows nicely – that each piece can call attention to itself and that there's a good balance of color.
Have someone look over the portfolio and provide feedback. Often times it's easy to stare too long at our work and get to a point where it's difficult to curate or edit the pieces.
Provide supplementary information with your portfolio, like an artist bio, artist statement, resume, and any good articles that have been written about your work.
When it comes to pulling together a portfolio when you want to sell your artwork, you'll want to use it to mainly market your work:
Make sure the portfolio has a good sample of the work you want to sell
Have someone take a look at the art you selected and provide feedback. Does the work make them want to see more?
Come up with a strategy for how you'd like to market your art from your portfolio. How will you share the images?
Have an online store where you can direct users to.
As an artist, you're never done building your portfolio. You will constantly review the new work you've made and update your portfolio when needed to keep it current.