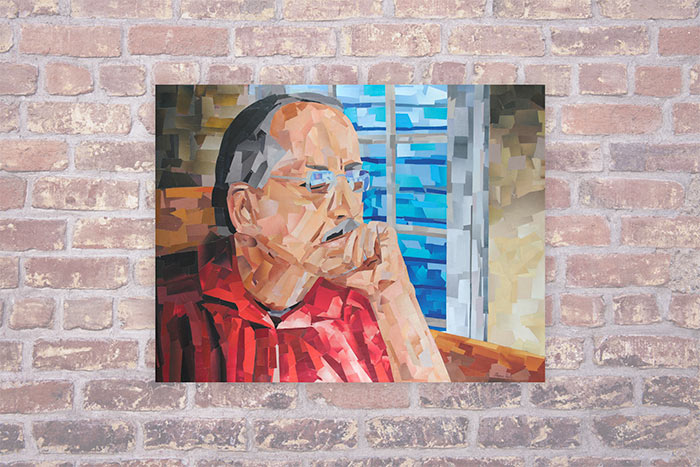 Back when I was a senior in college, I created my first cohesive body of collage work where I made collages entirely from magazine strips. My senior thesis exhibition included a series of portraits, with several inspired by my family. At that time, I wasn't interested in making portraits of famous or well-known figures, but figures that were well-known to me.
The image above is a collage, "Bill," that was inspired by my father. I had taken a series of photographs of him and ended up working from a few reference images in order to complete his portrait. I wanted to make a portrait of my father because I've really appreciated how he's influenced my interest in art. When I was a kid, I remember that he used to paint landscapes and still life scenes when we went on vacation. And over the years, he's been an avid photographer.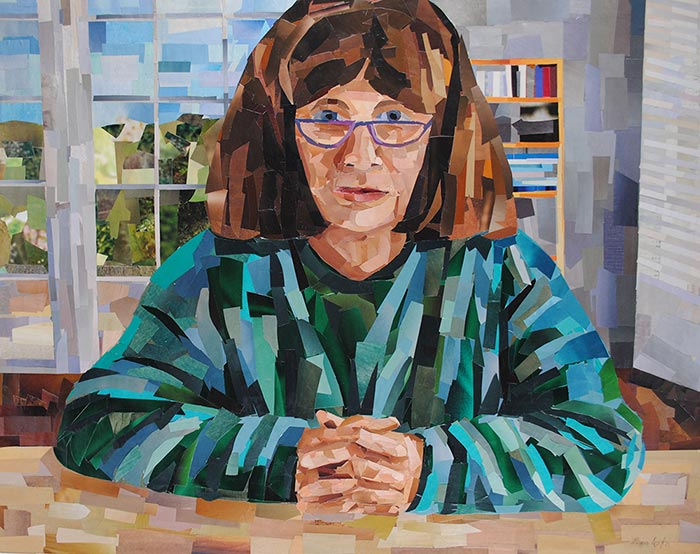 "Jean" is a portrait of my mother that was also part of my senior thesis exhibit. I remember that my mother's portrait was a bit of a challenge because of all the details involved with the background – the windows, the bookshelf, the faint hint of color variation for the blinds, and of course, the detail of her shirt. Over the years, she's worn many hats, one of which I'd like to think of as her counselor hat, being helpful in giving me advice in life. She seems a bit serious in this portrait, almost as though she's about to impart some advice.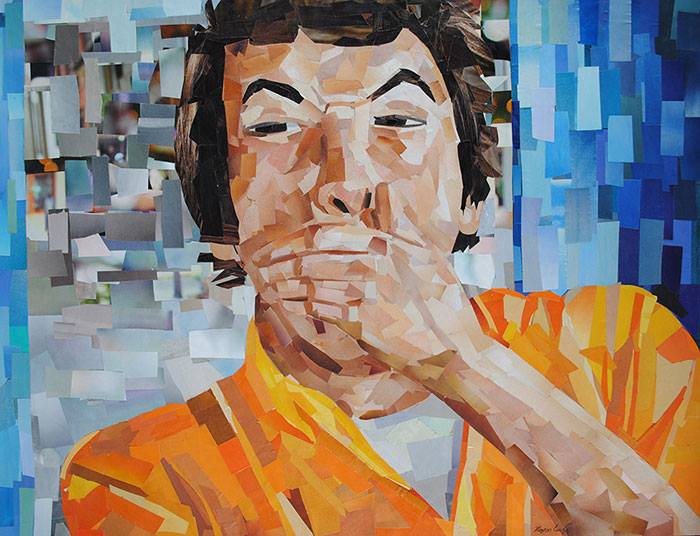 "Bren" is a portrait of my brother. I'm realizing that he's appeared in several of my figurative collages over the years. What can I say? My brother has always had a tendency of being great at making expressive faces. He is also pretty artistic, and growing up, I was inspired by the artwork he made. He studied animation back in college, and currently works as an animator/3d artist.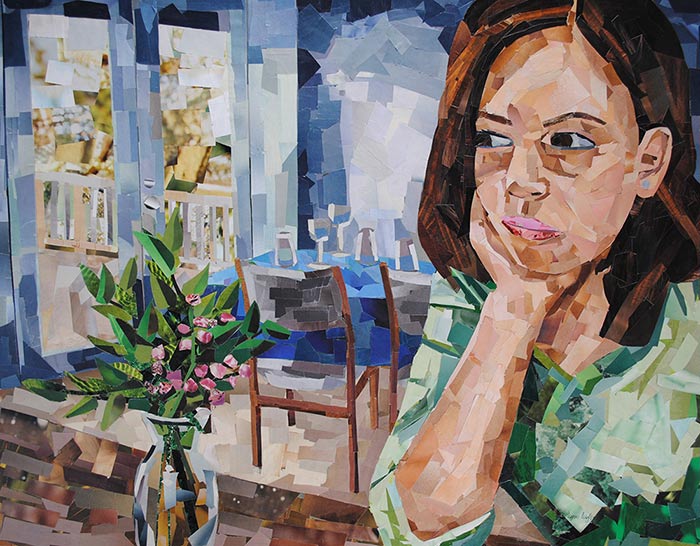 "Ali" is a portrait of my cousin, who I like to say seems more like a sister to me than a cousin, simply because we spent so much time together when we were growing up. Like my brother, I feel like she can be pretty expressive, and she's appeared in a couple of my portraits.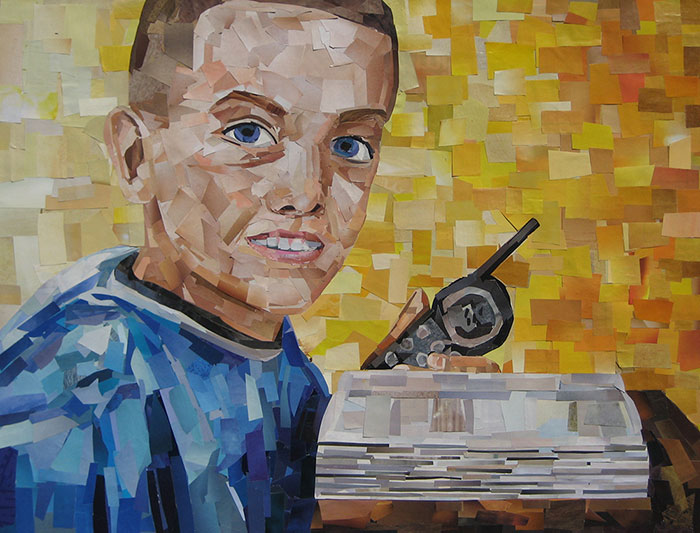 "Scott" is a portrait of my cousin who passed away back when I was in high school. When I was in college, I really wanted to create a work of art in memory of him. I remember that I struggled with this portrait, since I really wanted to make sure I could capture his likeness. This portrait was also part of my senior thesis exhibition.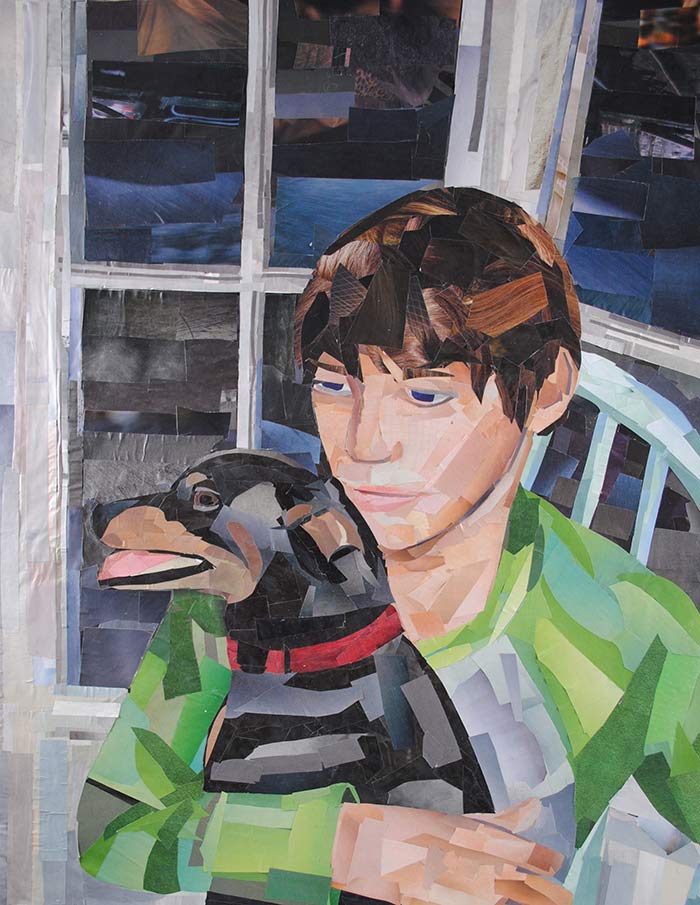 After college, I started exploring different ways of tackling portraiture. "Boy with Dog" was one of my first pieces that looked at portraiture involving a person and a pet. This piece was also inspired by one of my younger cousins, Drew.
Later, I started creating images where figures were interacting more with their surroundings. "Sightseers" is a piece that was inspired by my mother and brother when we were on the rooftop of a building in New York City, admiring the view.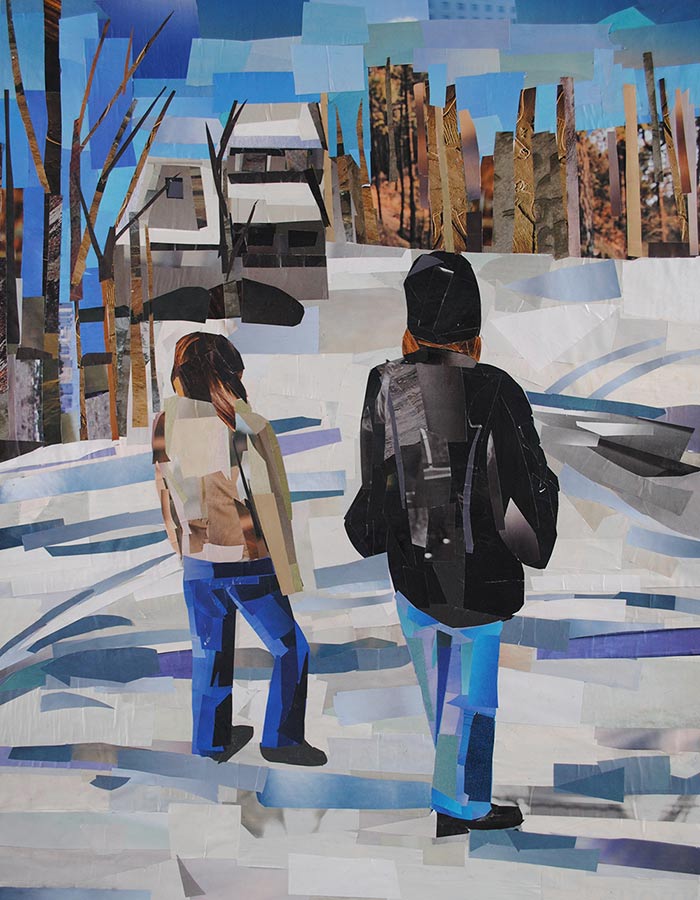 For several years, my family went to West Virginia for Thanksgiving. We'd rent a cabin, and it usually snowed at some point during our stay. "The Hikers" is inspired by the walks I'd occasionally take with my family in the snow. For this piece, I explored using more abstract shapes, as well as fragments from photographs of nature.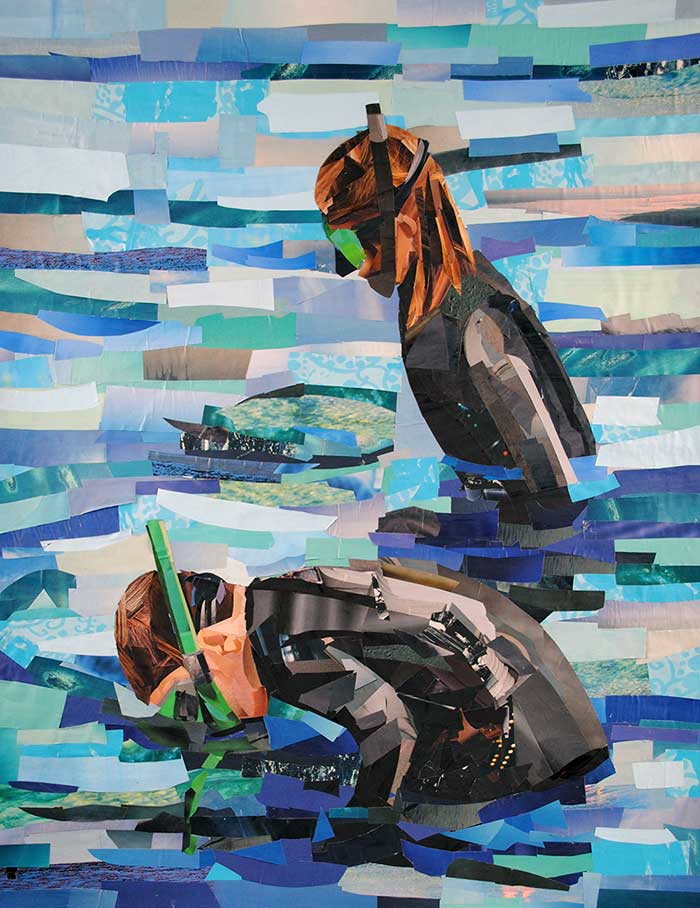 Growing up, my family spent a few summers in Maine. Sometimes my brother and I would go snorkeling in the ocean, and since the water was always so cold, we'd wear wetsuits. "Snorkeling" was inspired by those summers spent snorkeling and exploring tide pools.
I have my family to thank for inspiring a lot of my earlier portraiture work. I actually haven't explored figurative collages in a while, and I suppose you could say I'm well overdue for that. Perhaps I should turn to my family and friends again, and see how they can help inspire future works of art.