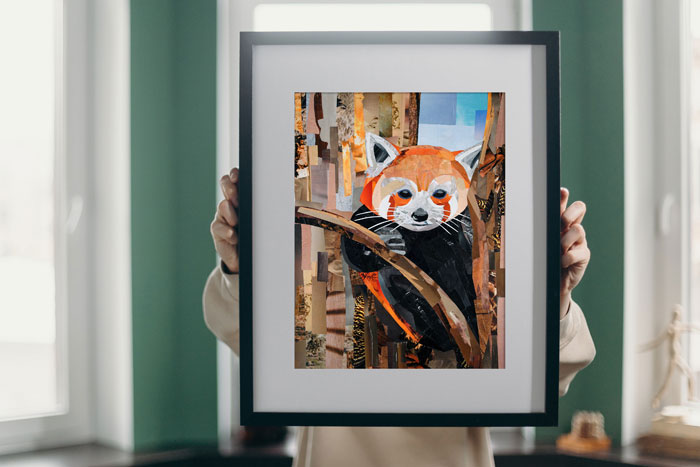 I get asked this quite often, so I figured I'd share a list of all the materials that go into my collages, as well as links to those materials (to make things easier for anyone interested in making their own "painting with paper" collages). Here's everything I use for my artwork:
1. Magazines
My collages are made entirely from magazine cutouts. Oftentimes, I recycle old magazines that friends and family members have given me, by turning them into new works of art. In the past, sometimes I'd subscribe to magazines so I'd have more materials to work with. One of my favorite magazines to use is Vogue, (or any fashion magazine) because they have so many ads and pages filled with various colors and patterns. I also really enjoy using National Geographic, especially when it comes to working on landscape pieces.
2. Glue
I like to work on my works in progress with a glue stick, because the glue is more temporary. This gives me more flexibility to peel up layers and move them around if I'm not crazy about the placement of the magazine cutouts. Once I'm finished with a collage, I'll later varnish it to seal in the placement. My go-to glue stick is Elmer's All Purpose Glue Sticks – they give me the right amount of flexibility and they're acid-free (which is important when you're working with delicate materials like paper).
3. Scissors
Some collage artists prefer using X-Acto knives because of the precision they get, however, I prefer using a good old pair of scissors (partially because I'm too clumsy to work with X-Acto knives). I currently have a couple of pairs of Scotch Multi-Purpose Scissors. Even though these scissors aren't super small, I like working with them even when I'm cutting really tiny bits of paper.
4. Surface
Instead of working on canvas or Masonite board, I enjoy working on watercolor paper when I'm cutting and pasting magazine strips. I like using watercolor paper because it's heavy enough to be more durable than other papers, and at the same time, it still gives me the flexibility to cut out portions of a collage if I'm not crazy about the direction that an entire composition is moving in. I can cut out the parts that do work and layer them on a fresh watercolor paper surface. My go-to paper is Strathmore.
5. Varnish
I always varnish a completed collage, and sometimes I'll varnish a work in progress if the magazine cutouts are small enough in detailed areas (so those pieces won't accidentally fall off). I like to use Liquitex's Matte Varnish, but if you prefer to have a glossy surface to your collages, they also have a high gloss varnish that you can use. I like Liquitex's varnish since it's easy enough to layer, and it's UV-protective.
If you want to frame your collages, I'd recommend using UV-protective glass and acid-free mats. Whenever possible, you want to work with materials that are acid-free and provide UV-protection to help protect the paper from discoloration over time.