This is being re-posted from Papirmasse's interview with me that was posted on their website today. I'm excited to be one of the featured artists in the September issue of their publication. Papirmasse's postcard contest garnered entries from all over the world. If you would like to receive this issue, which consists of 10 postcards with art and writing, subscribe by September 10.
P: Who are you and what do you do?
MC: I'm Megan Coyle – a collage artist and illustrator currently based in the Washington, D.C. area. I grew up in Alexandria, Virginia and studied creative writing and painting at Elon University. Since then, I've focused on making collages by layering bits and pieces of magazine pages. I'm drawn to art that's made from one material but looks as though it's made from an entirely different material – something I try to do with my own work.My artwork has been displayed in various solo and group exhibitions around the U.S. And recently, my collages appeared in the national craft publication Somerset Studio magazine.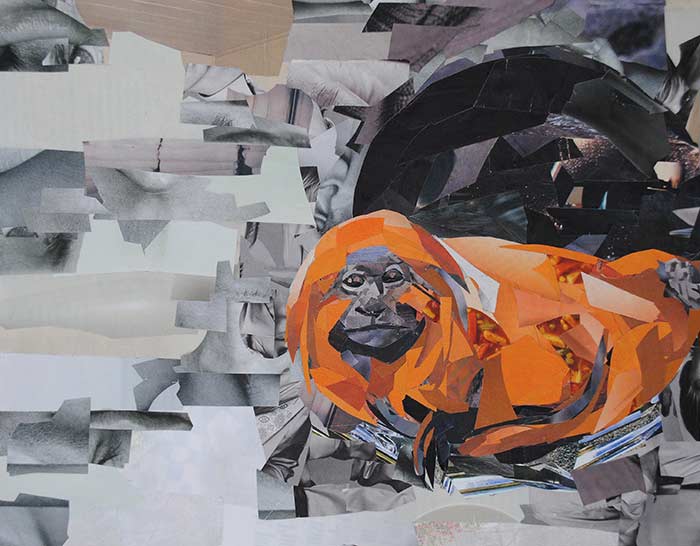 P: Sum up your style in one sentence.
MC: "Painting with paper" – where I recreate the look and feel of a painting through the manipulation of magazine strips.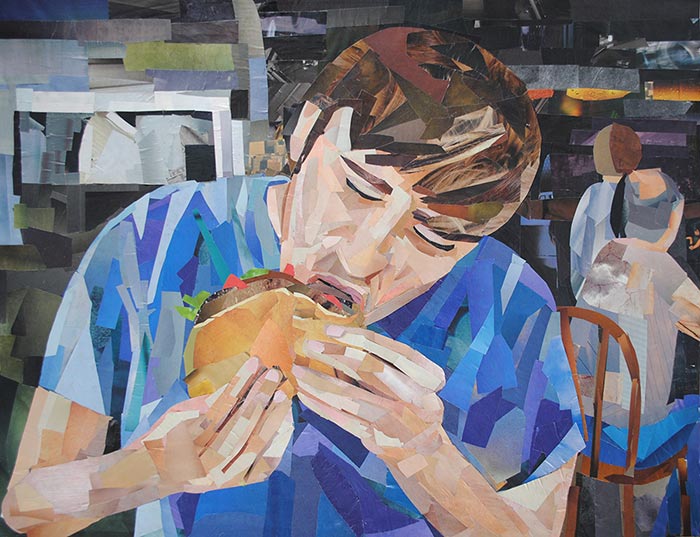 P: What projects are you working on right now?
MC: I recently finished writing and illustrating my first children's book, Duck & Fish. It's a story about a mallard duck and flying fish that switch places – Duck goes on an adventure in the depths of the ocean, while Fish explores the sky.I made about thirty paper collage illustrations for the book, and now that it's complete I'm working on promoting it. Later this year I'd like to tackle another children's book, so I hope to start brainstorming more storylines soon. I'm also working on a few lesson plans. A couple months back I put together an education section for my website. It was inspired by the students and teachers that contact me every year asking questions about my work. So I decided I should make things easier for them by putting together some materials for bringing collage into the classroom. I'm working on expanding this new section by putting together a couple new online lesson plans. I'm also dabbling with video editing programs since I'm interested in putting together video tutorials that share my work and technique with others.And in between work for these major projects, I've been busy collaging commission work and new art for upcoming exhibitions.
P: What did you do on your summer vacation?
MC: Lots of traveling to neighboring towns and major cities along the East Coast. I like exploring new places for inspiration. I like all the colors and excitement that places have to offer, and I'm constantly taking pictures of the interesting things I find. I often use my photographs for references for future works of art. So even when I'm traveling, even after a long weekend in New York City or another big city, I still have art on my mind.
I find I'm happiest when I'm constantly busy, but every once in a while I venture off to the beach to take a break, sprawl out, close my eyes, and listen to the water. After all, when it's summertime it's nice to clear your head and lounge around.