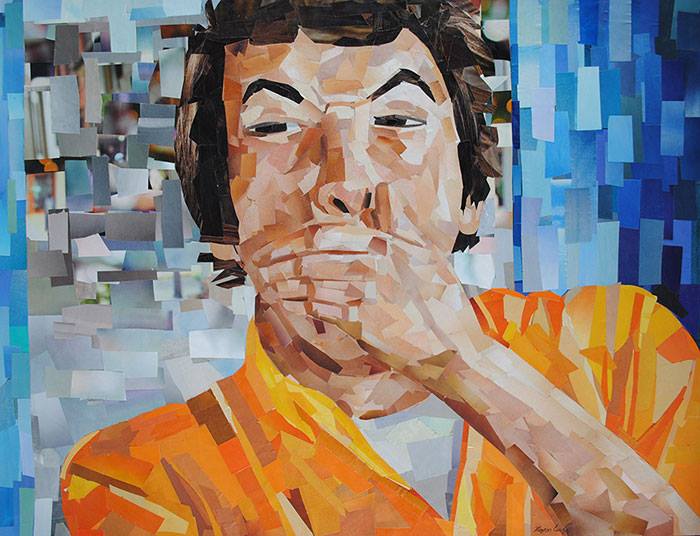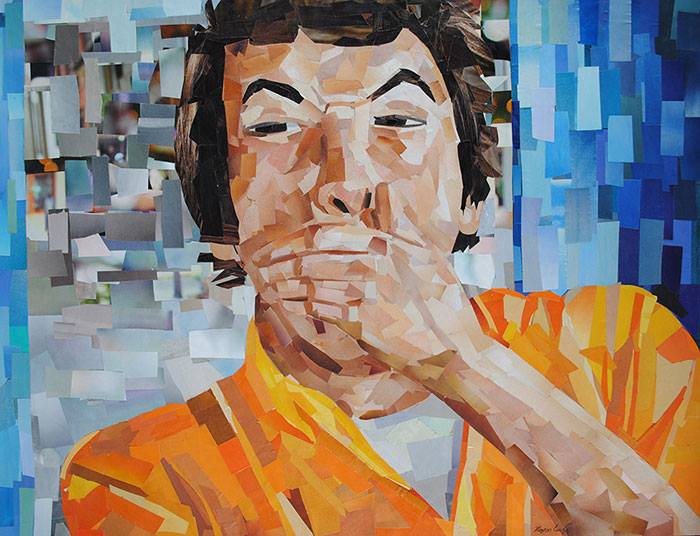 April 20 – April 30, 2008
Elon Arts West Gallery; Elon University, North Carolina
From the beginning of the school year, senior art students met with a committee of professors to develop their ideas for their senior thesis exhibition. Megan worked on six collage portraits where she went through a process of intense editing for each one. This was Megan's first cohesive body of collage work.
The senior exhibition featured the work of eleven artists who worked in a variety of media, including photography, ceramics, collage, and installation. The artists didn't limit themselves to the media they studied—for instance, Megan was a painting major and she exhibited collages (although her collages have a heavy painting influence).
Megan Coyle's senior thesis artwork was on display in Elon Arts West Gallery. Her thesis included the following collage portraits: "Benjamin," "Jean," "Bill," "Bren," "Scott," and "Ali." The exhibition lasted two weeks before it was taken down to make room for the second senior art exhibition.
The following was Megan's artist statement for the exhibition:
I associate the people I'm close to with scenes in my mind, with memories and places that illustrate their personalities.  By bringing together the human form, and the associations that illustrate these people, a conversation is created between the work and its viewers.  The narratives form a story that others can imagine in their minds.  Each setting was made specifically for each sitter, relating to what kind of person he or she is.  For each portrait, the setting, shadows, everyday objects, and sitter's expression, represents each figure's personality as I see it.  The variations in the developed surface have reminded me of the complexities of the different planes and areas of muscles on the human face.  Thus collage works well in communicating the variety of forms and values seen when looking at people.