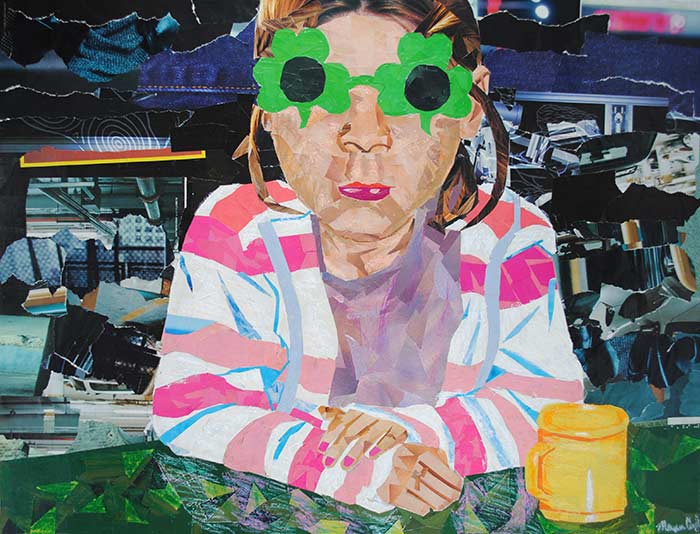 March 27 – July 27, 2008
Smithsonian's Ripley Center; Washington, D.C.
Map and Gallery Info
In the summer of 2007, Megan interned at the National Portrait Gallery (NPG). After spending a summer paging through several old art catalogues, Megan became more familiar with NPG's previous exhibitions and she became more interested in portraiture—she found herself focusing more on figures in her artwork. Her internship also inspired the work she did for her senior art thesis exhibition.
During Megan's internship, she entered the Smithsonian's annual juried community art show. Her collage, "Girl with Glasses," was acceptedand displayed in the 2008 exhibition at the Smithsonian's Ripley Center. Megan chose this particular work for her submission because she felt it represented her experience at NPG the best and it reflected the type of work the museum has—portraiture.
The exhibition showcased the work of several members of the Smithsonian community, including employees, interns, and volunteers. The work ranged from illustration to pastel work to mixed media sculpture.
The following was the introduction to the exhibition:
This juried exhibition, the Smithsonian Community Committee's third art show, underscores the often hidden talents within the Smithsonian community. While we received over a hundred and seventy entries, only seventy could be selected for display. The subjects of these works and the materials from which they are made are as diverse as the people who comprise the Smithsonian family and the collections of the Institution itself.
Side by side are images and forms inspired by the lure of distant lands and the love of the familiar.  These creations of paint, canvas, paper, charcoal, pastel, ink, fabric, metal, stone, clay and light speak of the artists' fascination with the world around them—objects, ideas, and people often encountered through their work with the Smithsonian. They are evidence of the inspired, after-hours activities of our staff, research fellows, interns, contractors, and volunteers. Their reserves of energy, imagination, and skillfulness enhance all aspects of our everyday work.