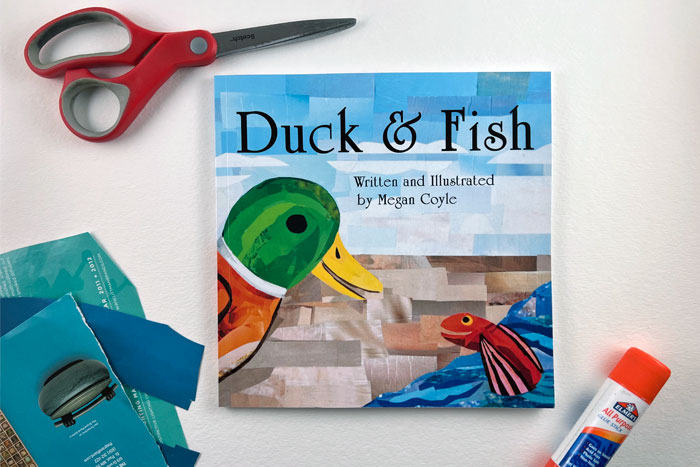 Back in 2011, I wrote and illustrated my first children's book, Duck & Fish. When I was in college, I studied painting and creative writing, and had taken a hiatus from creative writing once I graduated from college. However, I was inspired to pick up writing again for this project after a number of people said that they'd love to see me write and illustrate a children's book. So I suppose you could say I was inspired to write and illustrate a children's book after enough people had asked me if I had ever thought about doing just that. I also liked the idea of merging together my two interests in art and writing into a project – thus, I decided to give it a try and tackle my first book.
I remember the project was pretty time-consuming since I put all my other collage work on hold as I began work on about 30 collage illustrations. It took me several months that year to complete all the illustrations after I had storyboarded out how I wanted things to look and had already completed the first draft of the text. I had a couple of friends proof-read my work and provide feedback. And as I finalized the illustrations, I worked on finalizing the copy.
When the text and artwork were complete, I photographed my collages, and decided on using Blurb for self-publishing my work. I didn't want to wait on finding a publisher since I was eager to have my book readily available. However, after several years passed, I realized Blurb wasn't very accessible to others who were interested in buying my book. In fact, the cost of printing a book was so high, that I could barely mark up the price at all to make a profit (I was making about $1 per book that sold when they were costing around $30 to print). Recently, I worked on reformatting my book to have it available on Amazon and Apple Books at a much more affordable price, and since it's now on two popular platforms, it's a lot easier to find.
Will I make another children's book in the future? At this point, I like the idea of making another one, although I keep remembering how time-consuming the Duck & Fish book was to illustrate, so at the moment, I don't think I'm ready to dive into another one just yet. I might actually explore writing a book about the creative process in the not so distant future.