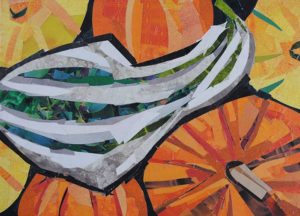 A still life is a work of art that depicts inanimate subject matter, which means the subject isn't conveying much movement. In other words, it's "still." Still life art often illustrates objects like flowers, cups, plates, food, and so on and so forth.
Traditionally when we think of a still life work of art, we think of a bowl of fruit sitting on a table or a vase of flowers. This doesn't mean that you have to make a still life work of art of just those subjects – you can get creative. Think about what objects you like. What are your hobbies? What objects do you use for your hobbies? If you like music, you could create a still life of a guitar or a number of instruments. If you like art, you could make a still life of a canvas sitting on an easel with a table of paints and paintbrushes. As long as the subject isn't really in motion, you can use it for your still life artwork.
Megan Coyle mainly focuses on portraiture and animals in her artwork, and hasn't worked on still life nearly as much. You can see that she makes more traditional still life works of art. What do the collages below have in common? What colors does she use? What do the collages remind you of? (Click on one of the images below to view a larger image)
Coyle also likes to illustrate cups of coffee and tea. By repeating the same subject over and over again, she can experiment with different colors and angles. Take a look at the collages below. Some are made with coated paper – which is a thick paper painted one color – while others are made from magazine strips. Can you tell which are which? (Click on one of the images below to view a larger image)
What would you like to include in your still life?