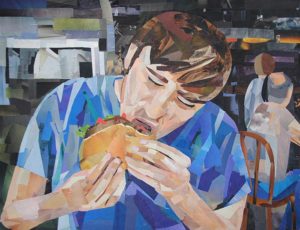 Megan Coyle is a collage artist who makes lots of portraits. She enjoys telling stories with colorful imagery and placing people in different settings.
1) What makes a collage a narrative collage?
Take a look at Megan's other collages of people that tell a story.
2) What do the objects in each portrait tell you about the person or setting?
3) How are Megan's figurative collages different than other collages?
Usually collages include cut-outs of entire objects that are pulled from magazines and photographs. For example, if there's an image of a car in a magazine, the collage artist would cut out the entire image of the car and then paste it onto their collage. Instead of cutting out entire shapes, Megan focuses on the colors and textures she can find on magazine pages.
How are Megan Coyle's collages made?
They are made from magazine pages. Megan cuts magazine pages with scissors and glues down the pieces with a glue stick to create her own original work of art.
She pages through magazines, looking for different textures. Look at all the textures on the pieces of paper in this polar bear collage.
Other times she focuses strictly on color – take a look at all the different colors in this portrait.
What do her collages remind you of?
Megan Coyle studied painting in school and likes making her collages look like paintings. She even calls her technique "painting with paper."
Coyle layers the magazine strips until she covers the entire page.