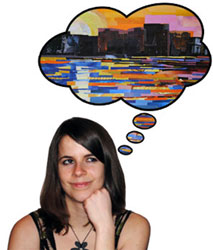 "For as long as I can remember, I thought I was meant to be a writer. Then I finally shared my writing with others and from their reaction, realized I should become an artist instead."
– Megan Coyle
Megan Coyle is a collage artist who makes artwork from magazine pages. Do you know how to pronounce her last name? Click here to find out how.
Coyle grew up in Alexandria, Virginia. As a child, she frequently visited the Smithsonian art museums in Washington, DC. From a young age she shared a strong connection with a few of the artists she studied at school and from museum visits – especially Vincent van Gogh and the impressionists. Van Gogh's energetic brushstrokes and bright colors really caught her eye, and over the years she has continued to be inspired by his work.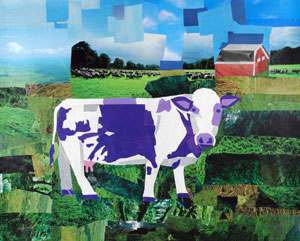 "My parents told me that as a child, I was constantly coloring in coloring books and drawing. They remembered that I was more interested in drawing than most kids my age."
– Megan Coyle
Art always had a role in Coyle's life and she took a couple of art classes every year until she ventured off to college. She went to Elon University where she graduated in 2008 with a degree in painting and creative writing. Initially she entered the university thinking she'd become a writer, but about half-way through her college career, she realized she was more interested in visual art than literature.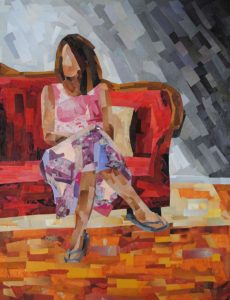 At Elon she studied painting and often worked with large, bold brushstrokes. Towards the end of her college career, she began experimenting by creating "collage-like" paintings. First she would paint two images on two different canvases. Then she would cut one of the paintings into several pieces and stitch them onto the painting that was in one piece. The finished work of art looked a lot like a patchwork quilt. Look at one of Coyle's paintings from this time.
Coyle started working in paper collage back in high school. At first she made mixed media pieces where she'd paint or draw with oil pastel on top of the magazine clippings.
In college she continued to work on her collages in her spare time, and during her last year of school she completed her first series of collage portraits.
Now Megan Coyle works entirely with magazine strips, but she experiments with other materials from time to time. She has become known for her portraiture work, although she also makes landscape, cityscape, animal, and still life collages. The majority of her animal collages are inspired by visits to the National Zoo in Washington, DC. Her landscapes and cityscapes are also inspired by familiar scenes in the DC area.
When it comes to portraiture, Coyle enjoys recreating scenes of everyday life. She likes to think of portraits as snapshots of a moment in someone's life.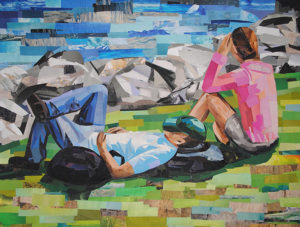 "I like recreating everyday scenes so I can really focus in on how beautiful and intricate different moments are. We often take so many moments in our lives for granted, and I like to preserve them so we can step back and study them a little longer."
– Megan Coyle
Megan Coyle currently resides in New York City, where she continues to work on her collages and other art projects.