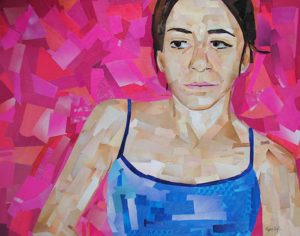 When studying Megan Coyle's collages, think about the style of each portrait. What do the portraits remind you of? Do they look like they're made from paper? What can you learn about the artist through her self-portraits?
Take a look at a few of Megan Coyle's self-portraits in more detail:
(Click on one of the thumbnails below to view a larger image)
Coyle focuses more on her collage technique when she creates a self-portrait. Thus she considers each portrait to be more of a version of herself than an exact likeness (as mentioned in the Challenge of the Self-Portrait section). For each collage, she begins with a detailed sketch. Next, she pages through magazines looking for different colors she'd like to use for the composition. Then she cuts out shapes of color and glues them down on top of the sketch. She cuts out shapes of paper that match the shape of shadows and highlights she sees when studying her face in the mirror.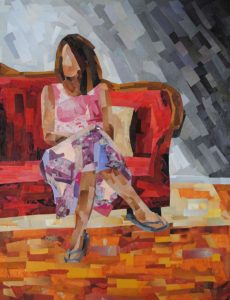 The great thing about collage is that you can easily make changes as you go along. Coyle uses a glue stick to glue down the shapes of paper so that it's easier for her to go back in and lift up paper in areas that need editing. She can also easily layer more paper in areas if she decides to change something like the color of the sitter's shirt.
She continues to layer the paper until she fills the entire page. Then she continues to work on the collage until she feels satisfied with the version of herself that she's collaged. However, she doesn't always cover the entire page. Take a look at what happens when she lets the underdrawing and white of the page shine through a bit.
Coyle focuses more on color and texture when cutting out shapes of paper. As a result, her collages end up having a very painterly quality to them.