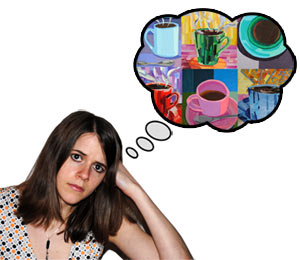 Megan Coyle is an American collage artist who was born in Northern Virginia. She is known for making representational collages entirely from magazine strips.
Coyle's professional art career was shaped by all the years she spent admiring and making art as a child. Growing up, she took an art class just about every year in school.
This early exposure to art made it easier for her to explore and experiment with different mediums before finding her niche in collage.
Throughout Coyle's youth, she thought she wanted to become a writer. She spent countless hours writing poetry and short stories, and was constantly reading literature. In 2004 she attended Elon University where she majored in creative writing. After a few writing workshops, Coyle realized she was no longer as passionate about writing as she had been. It was at that point that she decided to pick up art as a second major and see how the visual arts could spark her interest.
After graduating from college in 2008, she realized she enjoyed making artwork more than writing poetry and prose. At Elon she studied painting and her style was very much influenced by the impressionists and artists like Vincent van Gogh – who used large, bold brushstrokes. Take a look at one of her paintings from this time.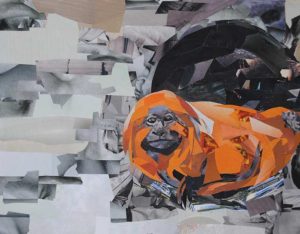 Towards the end of her college career, she began experimenting with collage-like paintings. First she would paint two images on two different canvases. Then she would cut one of the paintings into several pieces and stitch them onto the painting that was in one piece. The finished work of art looked a lot like a patchwork quilt. Look at one of Coyle's paintings from this time.
Megan Coyle began making collages back in high school. Back then they were mixed media pieces where she would draw on top of the magazine strips with oil pastel or paint. Take a look at one of her older collages. In college she continued to make collages in her free time. For her senior thesis exhibition, she created her first cohesive series of collage portraits that were made entirely from magazine strips.
With her college years behind her, Coyle continued to move forward and hone her collage technique. She started calling her process "painting with paper," where she manipulated magazine strips in such a way that they strongly resembled the brushstrokes in a painting.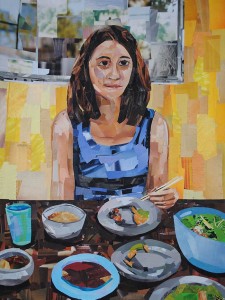 Megan Coyle now enjoys it when people think her collages are paintings. She likes it when they step closer to her work to get a better look once they realize it's not made with paint, but layered paper. Thus it creates more of an interaction between the viewer and artwork, as the viewer studies the way the art was constructed.
She likes the idea of taking something ordinary like magazines to make something unexpected like a work of art.
Coyle has become known for her portraiture work, which is inspired by everyday settings and events. She likes creating scenes that her viewers can relate to familiar experiences and memories of their own. She likes to think of her portraits as snapshots of a moment in someone's life.
Aside from portraiture, Coyle also creates landscape, cityscape, animal, and still life collages. Quite a few of her animal collages are inspired by visits to the National Zoo in Washington, DC. Many of her landscapes and cityscapes are also inspired by familiar scenes in the DC area. Coyle is constantly inspired by the sights she sees when she travels to new cities or when she continues to explore the places she's already been.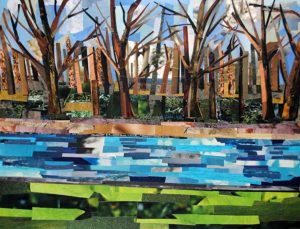 Megan Coyle currently resides in New York City where she continues to work on her collages.