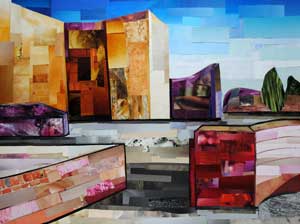 Collage is an incredibly flexible medium. You can easily layer pieces of paper on top of one another, as well as peel off previous layers to let what's underneath shine through. Depending on what type of glue you use as you work, you can create different textures when peeling or attempting to peel off previous layers.
By working with paper, you can achieve a variety of effects by using different cutting and pasting techniques. You can also create textures by treating the paper or by incorporating mixed media in your collages.
The following are techniques that Coyle has used in her artwork (click on the square thumbnails to view a larger image of each technique):

Fragments.
When working with magazines and photographs, you'll find lots of interesting and colorful images. You can cut these images into fragments and rearrange them before gluing the pieces down. This creates a distorted or abstract effect. (See image on left)
---

Simple Shapes.
Using simple shapes can help make a work of art look more abstract. Think about using only square, rectangular, triangular, or circular shapes. By using basic shapes, you can focus more on line, color, and form. (See image on left)
---

Patterns.
Magazines are a great source of color, texture, and patterns. When making an abstract collage, you can find a variety of patterns to cut and rearrange on the page. You can even cut out solid colors or textures and make your own pattern by creating some sort of visual repetition. (See image on left)
---

Tearing and Cutting Paper.
You can construct interesting textures with the way you cut and tear paper. Torn paper from magazines will often have white, feathered and uneven edges. Layering torn paper on top of paper cut with scissors can make torn edges look all the more noticeable. If you want cleaner looking edges, cut the paper with scissors. (See image on left)
---
Here are some additional techniques:
Preparing paper – staining, crinkling, smudging, painting (with acrylics, watercolors, tempera), or drawing on top of the paper before cutting/tearing it.
Glazing different layers of the collage with colored glazes.
Focusing on rhythm, or the repetition of shape and color throughout the composition.