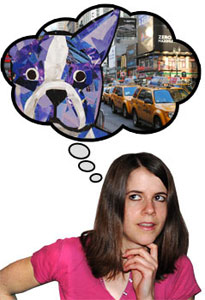 Megan Coyle is an American collage artist who was born in Northern Virginia. Growing up, she wanted to become a writer and was always reading and writing stories. She also took an art class every year in school and studied drawing and painting at a local art gallery.
Even at a young age, Coyle showed a great interest in the arts. She spent hours coloring in coloring books at home, and at school she could be found painting at an easel or doodling on her class notes. Her interest in the arts never faded, it only grew stronger.
Coyle as a Painter
At first she studied creative writing in college, although she soon grew frustrated with it and turned to art instead. She focused on painting and used bold, broad brushstrokes in her work. Other times she'd experiment with different materials and create mixed media paintings that were made from paint, oil pastels, and collaged paper.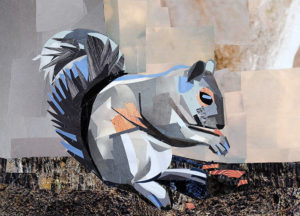 Coyle as a Collagist
She began making collages back in high school. She enjoyed making them so much that even while in college studying writing and painting, she continued to create collages in her free time. After graduating from college in 2008, she explored artwork that told a story. You could say that the years of studying writing and storytelling helped turn her into an artist who told stories with images.
Coyle prefers making collages of familiar, everyday settings. This includes scenes of people eating in restaurants, walking around the city, or hiking through nature. She finds inspiration from walking around major cities and people-watching. People are her favorite subject to collage because of how complicated and expressive a person's face can be.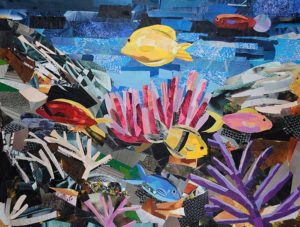 Since Coyle grew up in the Washington, DC area, she often visited the National Zoo as a child. The animals at the zoo are now a great source of inspiration for her animal collages, and she still visits from time to time to get ideas for future works of art. Aside from animal and people collages, Coyle also creates landscapes and cityscapes of scenes she's visited. She also makes still life collages of familiar objects like cups of coffee.
Nowadays, every work of art she makes is made entirely from magazine pages. Imagine that! A common object is cut up, the pieces rearranged, and an original work of art is made. Her collages look a lot like paintings, and are often mistaken to be paintings. She even uses a technique that she calls "painting with paper." Instead of using a paintbrush and tubes of paint, she uses scissors to cut up magazine pages and glues down the pieces of paper in such a way that they resemble the brushstrokes in a painting.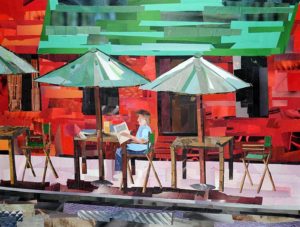 Megan Coyle currently resides in New York City, where she continues to work on her collages and explores different ways of sharing her work.