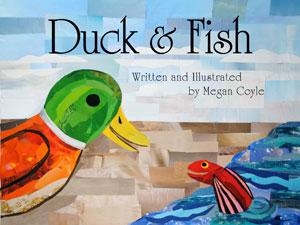 Duck & Fish is a book written and illustrated by artist Megan Coyle. The story is illustrated with collages made from magazines. Coyle calls her artwork "painting with paper," where she cuts and pastes paper in such a way that it looks like paint. Find out more about her collage process.
The book is about a duck and fish that go on an adventure. Adventures are when you have an exciting experience. Adventures can be journeys where you explore unfamiliar places, or fun experiences like swimming underwater for the first time. What kind of adventure would you like to have? Where would you go?
In the beginning of the story, Duck and Fish tell one another about where they live. You can find out more about Duck and Fish by clicking on the links below:
After Duck and Fish meet, they go off on separate adventures – Duck swims underwater and Fish flies in the sky. A normal duck can't swim to the ocean floor, and a normal fish can't fly over airports. Can you imagine other animals doing silly or unusual things?
At the end of the story, both animals realize they like their homes better than they had thought at the beginning of the story. What do you like about your home?