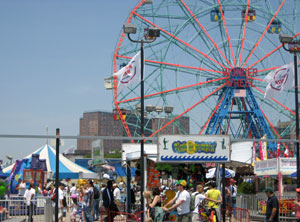 Megan Coyle's collage shows a scene from Coney Island. What is Coney Island and where is it?
Coney Island is in New York City. It used to be an island but now it's a peninsula, which means it's surrounded by water and is connected to the mainland by a small strip of land. Coney Island is well known for its amusement parks and beach on the Atlantic Ocean.
Between the late 1800's and 1940's, Coney Island was the largest amusement park in the United States. Today the amusement park area is still up and running with sideshow games, bumper cars, a Ferris wheel, and several other rides and games.
Have you ever been to Coney Island? What does Coney Island remind you of?