Are these paintings? What medium do you use?
These are actually collages—I use magazines to make them. I studied painting in college, and the technique I used for painting has strongly influenced my collage work.
Why collage?
I love how there's always an element of surprise with collage. Since I'm working with found colors and patterns from magazines, I'm never quite sure what I'll discover when piecing together a work of art. I also like how flexible the medium is. While I'm working on a piece, I use a glue stick which is pretty temporary (I later varnish each collage once it's complete), so I can easily peel back previous layers if I'm not happy with the direction a collage is headed in.
How long does it take you to complete a collage?
Since I've never really timed myself, I have no idea. It ranges depending on the dimensions, composition, and whether or not I'm having a hard time with the subject matter. Large works usually take several weeks while smaller collages are typically completed in a few days.
What's your process like?
My process is pretty straight forward—first I sketch out the composition while using several photographs as references. Then I sprawl out with piles of magazines. I page through each magazine and tear out pages that have colors and patterns that look like they may work well with the piece. I cut out shapes of paper and glue them down where I want them, using lighter colors for highlights and dark colors for shadows. I block in the color bit by bit, layering pieces of paper until I create the finished collage. Lastly, I paint a matte varnish on top of the collage to protect it from UV rays. (Read more about my process here)
What's your favorite subject to collage?
I enjoy doing portraits or figurative work. There's just something about the human form—I'm intrigued by the complexities of figures and the different planes that make up the human face. I also enjoy doing animal portraits—I've had an affinity for animals and nature ever since I was a child.
Did you always know you wanted to become an artist?
No, I actually wanted to become a writer for the longest time. I was writing stories in little notebooks for as long as I can remember, however I was also always taking art classes at a local gallery or in school. In college I was only going to minor in art, although after a couple of studio classes, I liked it so much that I picked it up as a second major.
After a couple years of sitting through critiques for my writing and art, I found that it was much easier to get over the criticism of my art than my writing. I figured that if I was capable of doing art no matter what, I should probably focus more energy on it. After college, I gave up on writing and I'm still actively pursuing my art.
What made you want to start making collages?
It started in high school when I was experimenting with different mediums in my art classes. I did a couple of mixed media collages before my final year of high school, when I began to focus on using magazines for figurative collages. I also used oil pastels on my collages and gradually, over the years, I began to work purely with magazine cut-outs.
What is your favorite thing about being an artist?
I always enjoy giving artist talks whenever I exhibit my work. I also really enjoy hearing from students and teachers who study my work in school. It's always fun to see images of student work inspired by my collages. The best part of being an artist is sharing your work with others and inspiring other creative minds.
Who are your influences?
One of my major influences is Vincent van Gogh, an artist I've admired ever since I did a report where I dressed up like him (ear bandage and all) in the second grade. I've been influenced by his painting technique and overall I think my work reflects this impressionist influence, where there's an emphasis on bright colors and distinct brush strokes (or shapes of paper in my case).
Another major influence is Gerhard Richter, especially his series of paintings that look like blurred photographs. I like this idea of art questioning its medium. The first time I saw one of his paintings, I thought it was a photograph. Once I realized it was a painting, I had a new appreciation for it and started looking at it in a different way. With my own work, I'm drawn to the notion of challenging the idea of what makes something a painting or a collage. I want viewers to question the materials of my work, to step closer to get a better look.
---
Interviews & Talks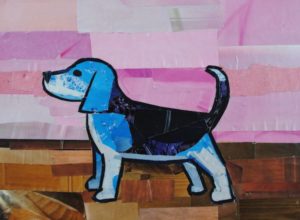 Q & A: What do you listen to while you work on artwork?
It's usually nice to have something playing in the background when you're in the studio. I like to I listen
Read more.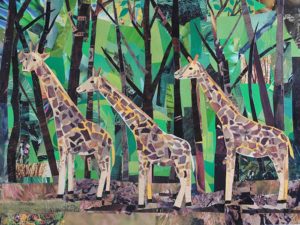 Q & A: What do you use to photograph your artwork?
I've gotten this question a few times over the past few months, so I thought I'd go ahead and share
Read more.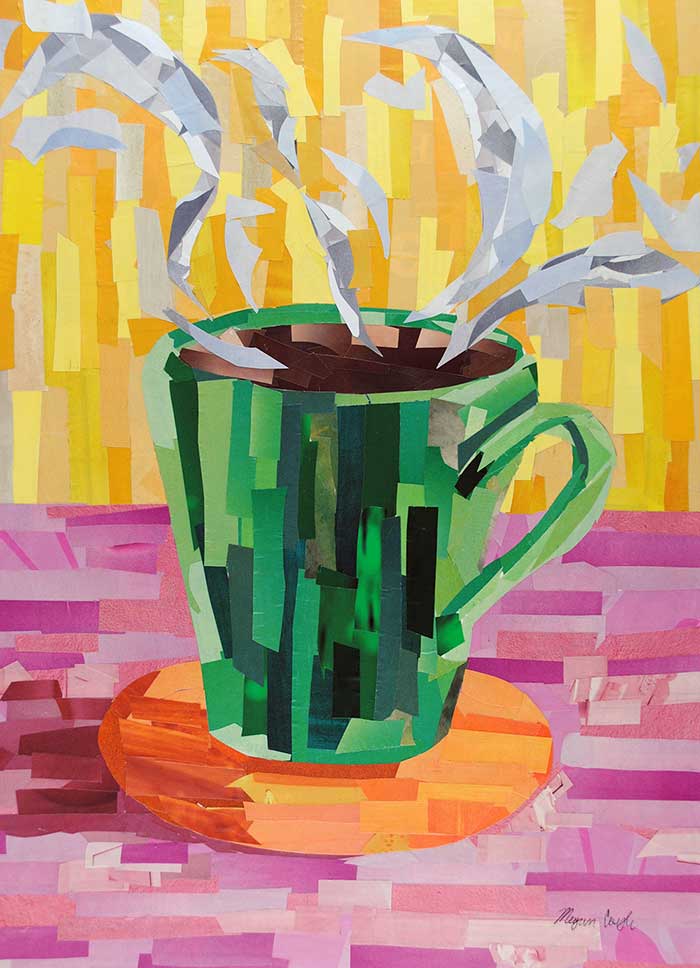 Q & A: Introducing Megan Coyle
Below is a Q & A made up from FAQ's I've received via email or in-person: How long have you
Read more.
view more