Megan Coyle is an artist and illustrator who resides in the Washington, D.C. area. She takes common, everyday magazines and turns them into works of art.
Coyle has exhibited her artwork at the Ward Museum, Smithsonian Ripley Center, Art League Gallery, Krempp Gallery, and other galleries around the country. She has been internationally published in publications that include the Washington Post, Somerset Studio, and Papirmasse. Coyle is also the author and illustrator of the children's book Duck & Fish.
---
In the Studio with Megan Coyle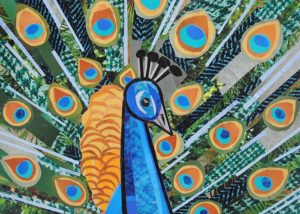 Pretty as a Peacock
Peacocks are such beautiful birds – I decided to tackle their elegance in collage form. It was definitely interesting working
Read more.
He's Wearing a Turtleneck
This was my first attempt at collaging a close-up of a turtle. I have to admit that this little guy
Read more.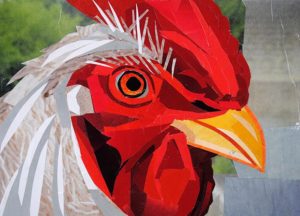 The Rooster of Crowsville
And now for a slightly different collage – a close up of a rooster! Roosters are rather peculiar looking birds
Read more.
view more
---
Resources for Artists & Creatives
view more
---
Interviews & Talks with Megan Coyle
view more
---
The Adventures of Bosty
Bosty goes to Paris
If you're wondering what Bosty has been up to, he's been busy traveling around Paris. He went ahead and bought
Read more.
Bosty goes to Ireland
Bosty wanted to get away for a little while so we went off to see the Cliffs of Moher in
Read more.
Bosty's Cook Out
We've had such nice weather these days that Bosty decided to hold his very own cook out. While grilling the
Read more.
view more